We supply fiber optic patch cables, fiber optic patch cord, LC,SC/APC,ST, E2000/APC,MU, VF45,FC, MT-RJ, SC, MPO, Volition,MTP, FC/APC, ST/APC, LC/APC, E2000, DIN, D4, SMA, Escon,FDDI,RoHS compliant,LSZH,Riser,Plenum,OFNR,OFNP,simplex, duplex,single mode,9/125,SM, multimode,MM, 50/125, 62.5/125,fiber optic jumpers cables.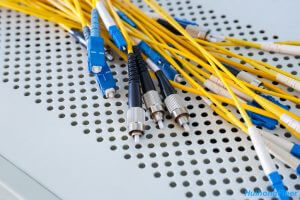 We offer competitive price for fiber optic patch cable, our company has strictly quality control system and high quality products,the custom fiber patch cable is fast delivery to worldwide customers.
Fiber optic patch cable types:
A fiber patch cords is made of 2 major parts: Optical connector and fiber optic cable.
1)By Optical connector:
LC fiber optic patch cable
FC fiber optic patch cable
SC fiber optic patch cable
ST fiber optic patch cable
MU fiber optic patch cable
MTRJ fiber optic patch cords
E2000 fiber optic patch cables
MPO fiber optic patch cords
ESCON fiber optic patch cords
2)By fiber optic cable types
Single mode fiber optic cable: Generally in yellow color and used for long transmission distance;
Multimode fiber optic cable: Generally the multimode patch cable are orange or gray and are used for short distance transmission.
3)By fiber optic cable Jacket
PVC: Non-Flame Retardant;
LSZH : Low smoke zero halogen, Flame Retardant
fiber patch cable Features
1. Low insertion loss and High Return Loss
2. Fully compliant with standards of IEC and YD-T826/1996
3. Temperature stability: Operating temperature: -20 to +75°C
4. High durability, more than 500 times mating.
5. Individual package with detail information label.
6. All patch cords are 100% tested
Fiber optic patch cable applications
1. Optical Fiber Communication Systems
2. Optical Access Network
3. Fiber optic data transmission
4. Optical Fiber CATV
5. Local Area Network (LAN)
6. Test Equipment
Fiber optic patch cable Ordering information:
Connector type: LC, FC, SC, ST, MTRJ, DIN, D4, E2000, MPO
Ferrule Interface type: UPC, APC
Fiber cores: Simplex, duplex
Fiber type; Singlemode(G. 652, G655, G657), multimode(50/125)/(62.5/125),OM3
Fiber diameter(mm): Φ 0.9, Φ 2.0, Φ 3.0
Fiber length:Customize length
Fiber optic patch cables are used for linking the equipment and components ,we have fiber optic patch cable with different fiber connector types,our low insertion loss and low back reflection .Axen Technologies fiber patch cable is widely applied in Telecommunication Networks ,Gigabit Ethernet and Premise Installations.
Huihongfiber is a reputable name in the world of fiber optic products. Our team of experts, with over 20 years of experience, specializes in top-quality solutions for various applications across numerous industries.
As a leading manufacturer and supplier, Huihongfiber provides dependable, durable, and cost-effective products suitable for your requirements. Our range of options includes:
Huihongfiber has everything you need. Our extensive product line features a variety of industry-specific fiber optic cables and generic equipment that can be used anywhere.
Our knowledgeable staff is always available to assist you in selecting the best product for your project. Additionally, we offer competitive pricing and speedy shipping, ensuring that you can get started on your project without delay.
Contact Huihongfiber today to discover more about our broad range of high-quality fiber optic products!